1/1/2014 - Meteor pistons for Rotax Max and Leopard engines
Meteor Pistons for the IAME Leopard and Rotax Max have now been homologated for use in AIDKA. Piston Kit's include Piston, Ring, Pin and circlips.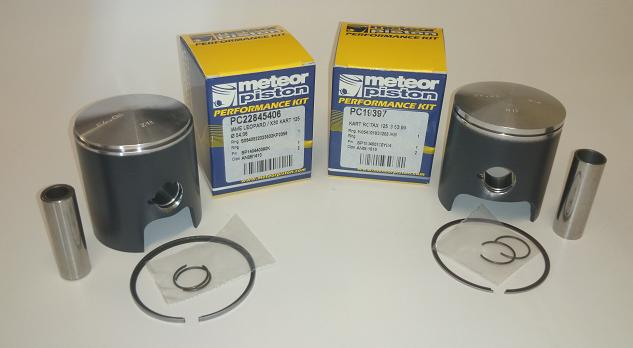 10/1/2013 - Meteor pistons
With the KF and KZ classes gaining popularity, STRIKE became the Australian distributor for the Italian made Meteor pistons and commenced delivery of these in early 2013.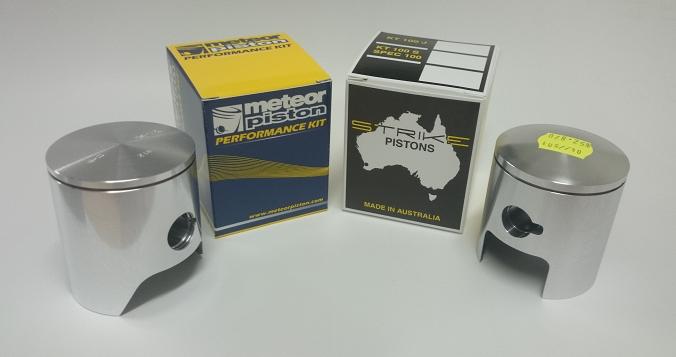 2/10/2010 - Aluminium disc brake rotor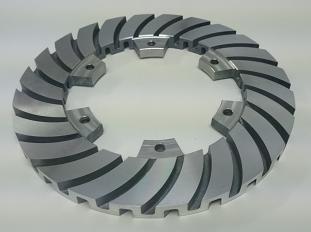 In 2010 a lightweight aluminium brake disc rotor was released. This came in Ø190, 195, 200 & 205 with a width of 12 mm. This was designed to fit on a common location diameter size 0f 100 with 6 off M6 drive screws on a PCØ of 114. Typically a Ø200 rotor weighed 440 gm compared to a regular ventilated cast iron disc at 970 gm. The rotor is made from a heat treated hyperteutectic aluminium alloy.

16/6/2009 - Broken crank recovery kit for J clutches
Should the thread be broken from the crankshaft, STRIKE offers a small kit to facilitate the center of the crankshaft to be drilled and tapped out to an M6 size. By doing this, in conjunction with a screw provided with the kit, a taper nut can be locked against the crankshaft taper. This provides enough friction to allow the starter to drive directly against the taper nut. With the correct tools (drills and tap), this allows the crankshaft to be recovered with the engine still on the kart chassis.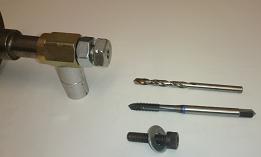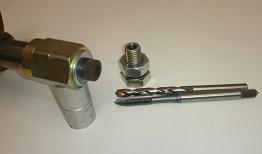 16/12/2008 - J Clutch retention plate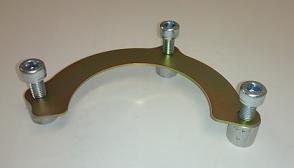 At the August 2008 AKA NKC meeting, it was decided that all clutches must have a retention device that will prevent a spinning clutch from escaping from the engine should the crankshaft break or the clutch nuts come loose. The retention device has always been a feature of the S clutch. In response, STRIKE introduced a retaining plate kit that is included in all future clutch kits and is also available separately.

20/9/2008 - Q spanner for the S clutch

As an improvement over the earlier C spanners provided with the S clutch kit, the Q spanner offers industrial strength. These are now provided standard with the S kits and are also available separately.

28/4/2008 - Taper nut for J clutches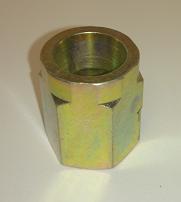 Due to the occasional incidence of the threaded end of the crankshaft breaking off, STRIKE offers a new style of inner nut that replaces the adjusting nut. The reasoning behind this is that the weight of the starter, when left "hanging" on the clutch nut, is enough to overstrain the crankshaft thread. To eliminate this strain, the taper nut is designed to tighten up onto the taper of the crankshaft. By this method, any high bending loads on the crankshaft are absorbed by the full crankshaft, not just the thread. A slightly different assembly method is required with the taper nut. All clutches are now being supplied with this nut. The nuts are available separately for retrofit to earlier clutches. Both the clutches and separate nuts come with appropriate instructions.

2/1/2007 - Newspaper Articles
For sometime now, Ken Seeber of STRIKE PRODUCTS has been writing karting articles for WA's only daily newspaper, "The West Australian". As it happened, this newspaper had developed a very positive and broad attitude to motoring in general, including a range of motorsport features every Wednesday.
Recognising that karting plays very important and significant role in motorsport, the paper was very keen to include a regular section just on karting. So began a series of regular fortnightly karting articles that continue to this day.
The focus of these articles is the fun, family, learning and development aspects of karting, always with a positive slant, combined with an explanation of how karts and karting works. The articles are not limited to just sprint karting. On the other hand, it has been intentional to not include general race results and importantly, no politics.
Subjectively, it is considered that these articles have been beneficial for karting in WA.

Please feel free to plagiarize if you might consider doing something similar. Click Here to go to Features Page.

14/12/2006 - STRIKE Socket Adapters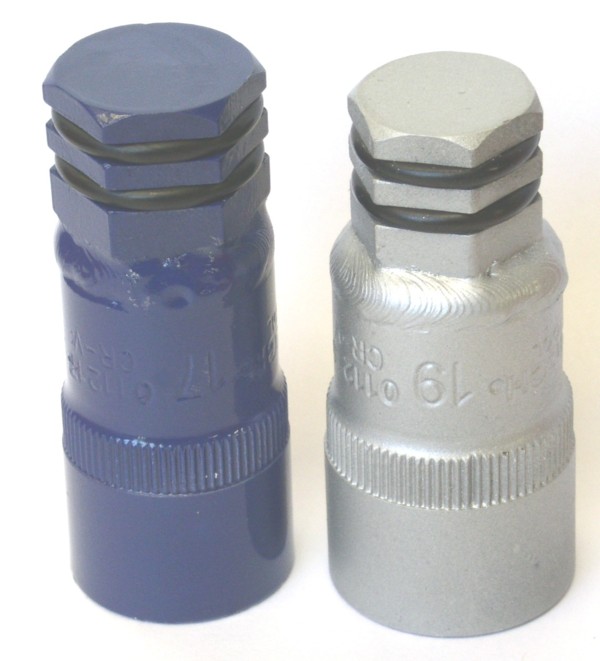 Ever had a 125 TAG kart on the out-grid and it didn't start because the battery was flat? That used to mean that you missed out on the race. The solution is to put a hole through the RH side pod and carry a STRIKE drive adapter. Next time it doesn't start, grab a yellow STRIKE starter from a fellow karter, snap in the drive adapter and externally start your engine.
These come in two styles: One converts from 17 to 19mm A/F and the other from 19 to 17. They are colour coded as per the starter output shafts for quick visual identification.
The adapters are securely constrained in the starter shaft socket with double O-rings.

13/10/2006 - STRIKE Ignition Kill Switch Kit
This kit is universal for KT100J, KT100S and ARC motors. The stainless steel bracket bolts between the steering wheel and column to provide easy engine stopping especially when running an external air filter on airbox. Click here for kit detail.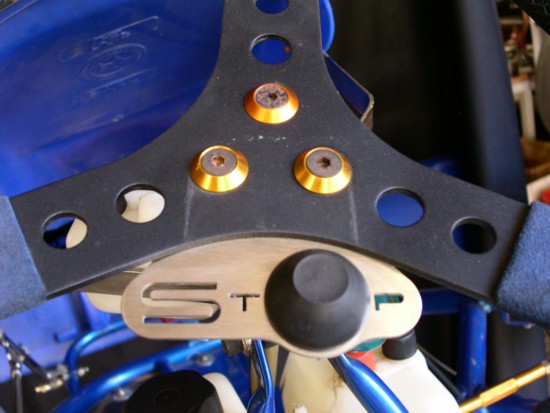 21/8/2006 - SSS Clutch for KT100S Engine
First batch has been sold and second batch due for completion in September. Checkout our installation instructions for a quick look at our latest product.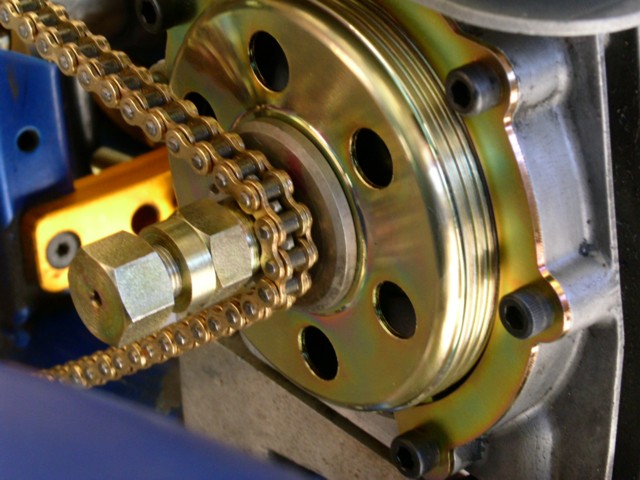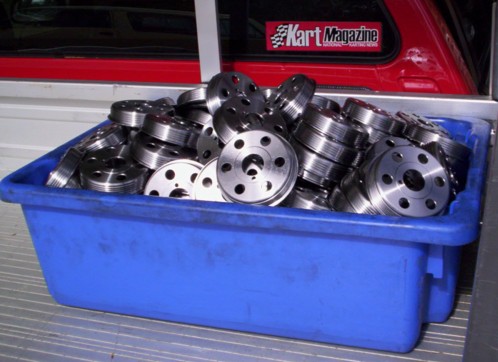 21/8/2006 - DIY Starter Kit
DIY starter kits now available. All you need is your own battery and starter.Click here for more details.